Images from Digital Maker Collective Tate Exchange Event 8th Feb 2017
On 8th Feb 2017 between 12 & 6pm University of the Arts London (UAL) Digital Maker Collective performed the 1st of 4 'Digital Making Art School' events at Tate Exchange, below are a selection of images from the day, alongside feedback/overview of the day from Tate's perspective, click on the links to projects to see more images from the day for that session:
See all images from events which took place on the 8th Feb - 22nd Feb - 8th March - 22nd March 
Video below by Abigail Fletcher:
We were really pleased to see so many UAL staff, students, alumni and guests take part and help set up and deliver the event (image of the UAL digital maker team below). It was also great to see so many staff & students from UAL who came along and got involved for the first time. Images by Abigail Fletcher (AF) and Chris Follows (CF)
Image above by AF: Wimbledon College of Arts Print & Time Based Media staff & student interactive performance Gesamt
It was a busy day and a popular event, 581 visitors between 12pm & 6pm.
Crowds drifted in throughout the day, students came to find their college or friends but also other visitors, many adults visitors who knew someone displaying their work, some heard about the event online and others walking by the space wanted to know what it was all about.  'It was jolly good fun.'
Image above by AF: Members of the event are keen to stress all their work is individual-led but they are a collective which ignores hierarchy or levels of experience (one adult student explained she was only in her first year).
Image above by CF: 'This is mostly about communication and sharing, collective text,' mentioned one of the members. 'It's about cross-semination. This is where I find my ideas, where I can discover, for example, what Wimbledon are doing, and how to integrate some of their work into mine.'
Image above by AF: Machine-Mind
When I mentioned it all looked a bit like a fair I was corrected: 'a fair with a purpose.'
'The most important thing to me is meeting like minded people, although it's also useful to access equipment that I wouldn't otherwise.'
'This is a participant-driven workshop space which will allow any member of the Collective to propose & deliver workshops on the day.'
Below Robot Hacking with the Crumble by Femi age 11 teaching UAL staff & students
Brilliant blog post and images of the event on the 8th Feb at Tate Modern Tate Exchange by Femi here - https://hackerfemo.com/2017/02/15/digital-makers-collective-tate-exchang...
There were dancing robots, sensors, circular systems, microcomputers and biofeedback devices to create interactive objects and digital interactions. (Image above by CF)
JaXon - Bad Robot (Image above by AF)
Above & below: An open studio - Bio Feedback, Raspberry Pi, Arduino & EEG and Activating Sonic Sensing through Bones (Image above by CF)
Artificial creatures and utopian or dystopian worlds created with green screens, students acting out and reciting on a microphone spontaneous, very loud, poetry (which visitors could create using cut-out words), faces painted like warriors with green paint, making parts of their faces disappear on screen. (Image above by AF)
There were hacked objects, sensors, fibre-optics, lenses. Discussions were around how information can be transferred between electronic, non-electronic, analogue and low-tech devices (one using bananas). (Image above by AF)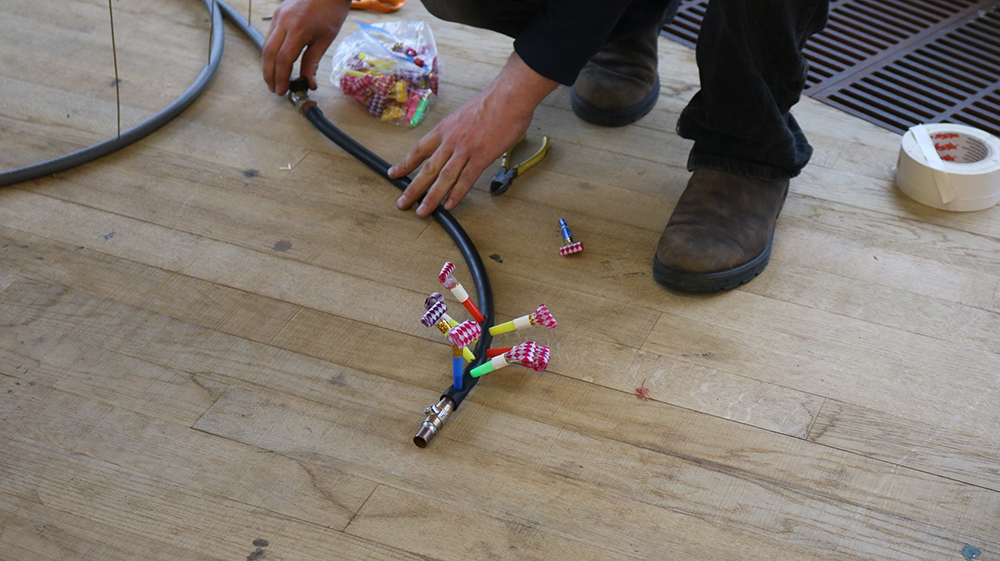 There is also a symposium on virtual realities which was full all day. (Image above by AF)
Above Image by AF - Virtual Reality Symposia: Virtual Histories
Walking Student Led Crits
Above Image by AF - Wonder Wall - Student-led Crit
Informal discussion space organised by Joey and Saskia (Freyron Collective)
Above Image by AF Tate Exchange Discussions and Talks
Above Image by AF Online listening platforms with Rounded Radio
Below image by AF Soft Circuits in the Switch House
Tate staff noticed that the majority of visitors to the floor today were school children (all ages) (Image below by CF)
Below team of staff & students preparing for school collaboration workshops on 22nd Feb see Collaboration between Hill Mead Primary School in Brixton, Digital Maker Collective members & CYLAND artist/engineers from St Petersburg
A teacher arrived around 1pm with around 18 students (GCSE age), she was unsure if they were allowed to enter the space. Adeola brought them in, explained what was going on and let them know the space is for them. Another group 16 students from the same school arrived shortly after. (Image by AF)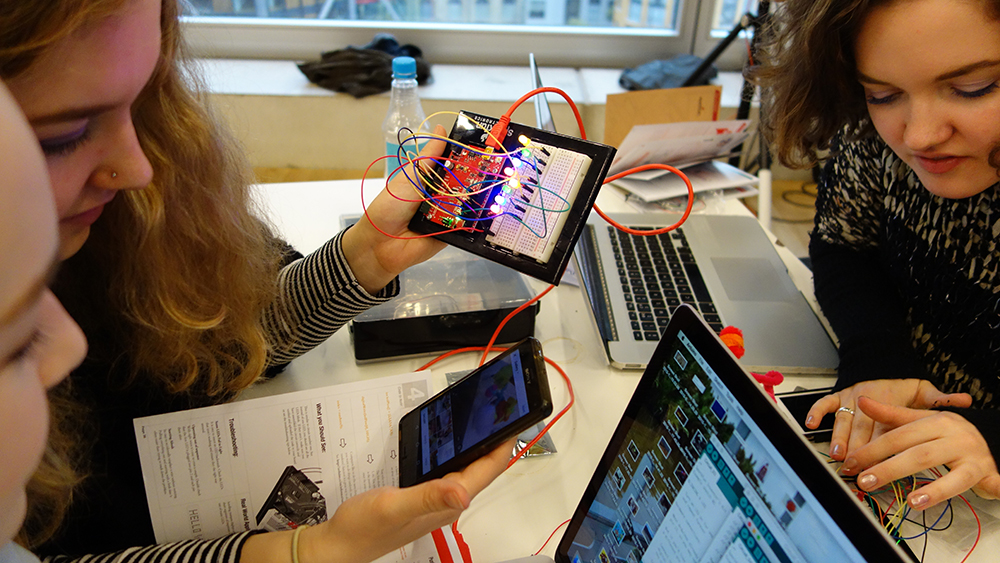 Image above by Nicola Rae
Both groups spent approx. 35 minutes in the space – dancing with robots, playing with the VR (only a couple retreated to the sofas).
Robot Hacking with the Crumble by Femi age 11 (Image by AF)
Tate staff spoke to two older ladies who dropped-into Tate for the afternoon on a walk along the river, they were coming down the stairs from the viewing platform and spotted Tate Exchange.
Ubernism' Part 1 (Image by AF)
They were blown away by our programme, telling Tate staff that London needs more places like Tate Exchange because London is a place where people don't talk to each other. They said that Tate Exchange should be the face for London!
Image above VR demo space with VR Explorers and Virtual Meets Reality
End of the day comment card: 'Very cool space. Very interesting! Thank you!' (Image by AF)
We were really pleased to be visited by the Director of Tate Modern Frances Morris and the Tate Council and their reaction to the event was fantastic, lots of really positive & encouraging remarks. Frances and members of Tate Council spent a lot of time walking around the event and talk to the Collective. (Image by AF)
Director of Tate Modern Frances Morris and the Tate Council being welcomed by Chris Follows into the Digital Maker Collective opening event. (Image by AF)
See you all on the 22nd Feb !
22 February: Pop-up 2 – Deconstructing the Digital: Explore resistance, activism and risk taking through creativity and taking things apart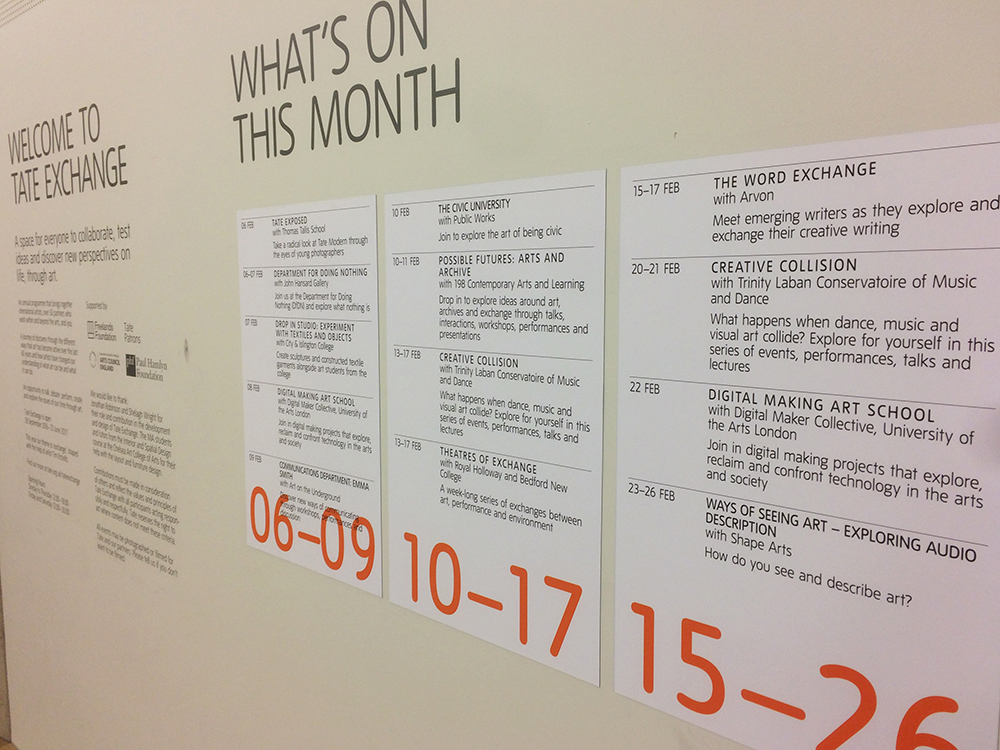 ... cant make that then we're also at Tate 8th March and 22nd March.
8 March: Pop-up 3 – Digital Friction: Explore ways of subverting and confronting digital friction caused by technology overload
22 March: Pop-up 4 – Virtually Real Environments: Explore the boundaries of physical and virtual space, new worlds and spatial narratives
Image above by AF
Please send your images/videos of the event to c.follows@arts.ac.uk via Wetransfer with any additional information and photo credits.
We will use images & videos to promote the upcoming Tate events - http://digitalmakercollective.org/
About the Digital Maker Collective
The Digital Maker Collective are a group of artists, designers, staff and students from the University of the Arts London (UAL) who explore emerging digital technologies in arts, education, society and the creative industries.
The collective are supported by Digital Learning, Teaching & Enhancement at Camberwell, Chelsea and Wimbledon Colleges of Arts, UAL.
| | |
| --- | --- |
| | |
| Beatriz Fernandes Graphic Designer Room One | Beatriz Fernandes Graphic Designer Room One |
| | |
| Sergio Menendez Menendez | Alexander Fefegha-Etta |
| | |
| Joe Bradley | Joey Phinn |
| | |
| A.Bianca.D.C | Tina Touli |