Tate Exchange 2018 - Open Call to Collaborate in Digital Maker Collective Events
Tate Exchange 2018 - Open Call to Collaborate in Digital Maker Collective Events
Following the success of the Digital Maker Collective, Digital Making Art School events at Tate Modern, Tate Exchange this year, which included 150 staff & students and over 2,000 public visitors, we are really pleased to be invite you to join the Digital Maker Collective in planning the programme for Tate Exchange 2018.
Tate Exchange, Level 5, Blavatnik Building, Tate Modern: A space for everyone to collaborate, test ideas and discover new perspectives on life, through art. The overarching theme for the Tate Exchange programme year 2017/18 is 'Production' which can be interpreted as we wish, and to help frame ideas we are looking through the lenses of Value, Material, Transformation and Knowledge.
Arts Work of the Future 5 – 11 March 2018, Tate Exchange
Join members of the Digital Maker Collective as we question, explore and rethink the impacts of technology in our lives. Help us reimagine the role of the arts in an age of rapid technological change. Can the arts help us move beyond everyday consumption and technology as a spectacle? Together let's challenge the mainstream, say the unsaid and address inclusion, integration and the production of technology in our lives, society, work, education and in the arts?  
Find out more about how to Get Involved in the Digital Maker Collective and Tate Exchange 2018.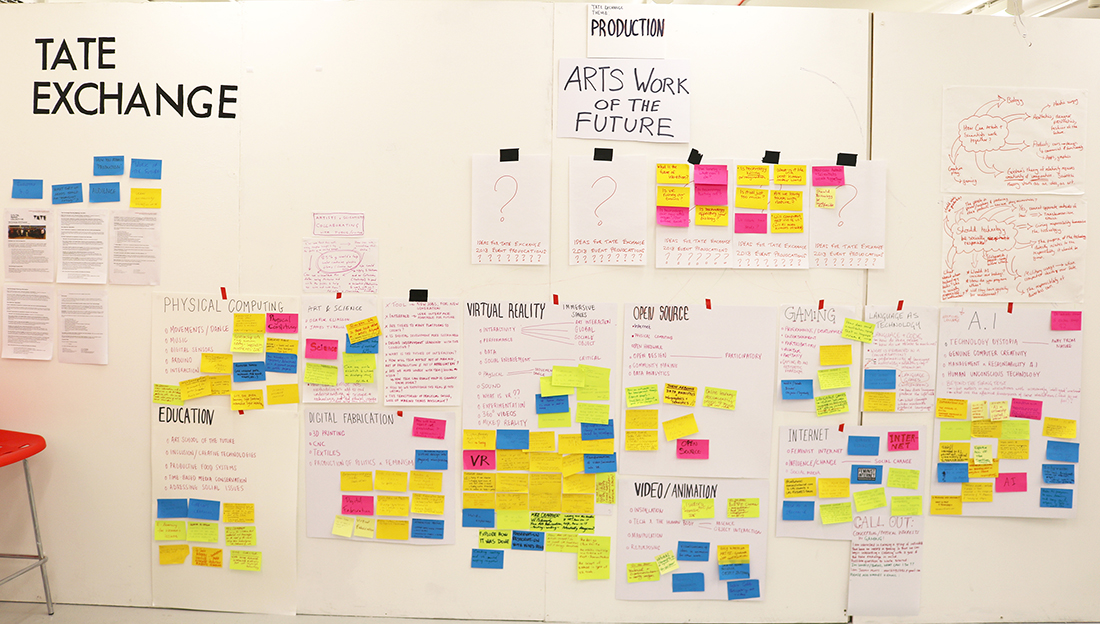 If you are interested and would like to find out more about getting involved please contact c.follows@arts.ac.uk and we'll add you to the Tate Exchange 2018 Planning Group Mailing List. This call is open to all UAL staff, students & alumni, from individuals who want to collaborate, groups already collaborating or whole course teams. We are also open to explore collaborations with other groups either communities, sector or industry, although collaborations must happen prior to the Tate events.
All updates on progress will be posted on http://digitalmakercollective.org/