DEL 2017 conference #delJAM event images
#delJAM with the Digital Maker Collective @CSM, 15 Sept (16:15)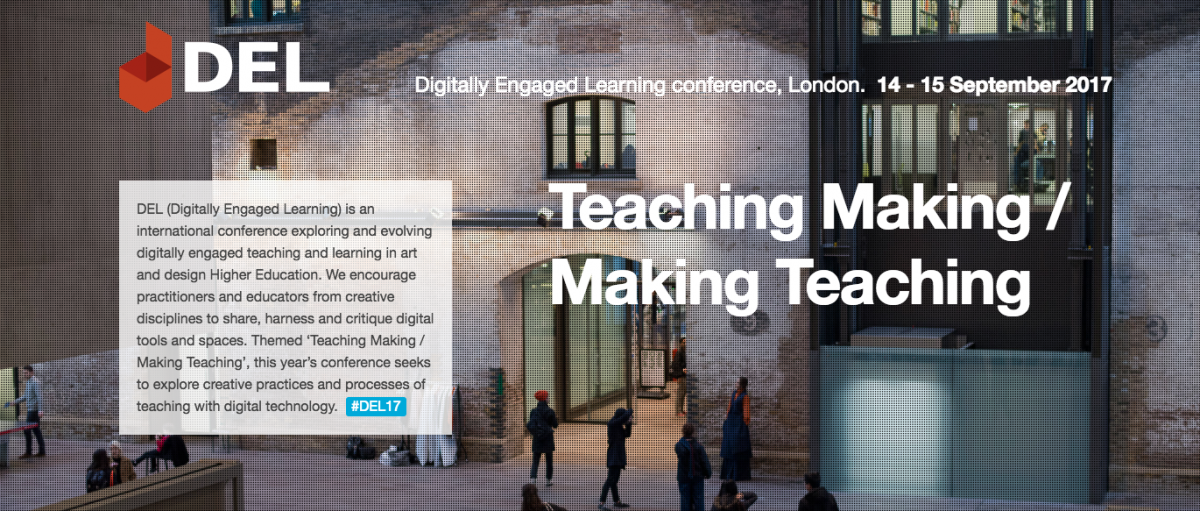 DEL 2017 conference 15 September 2017 CSM Saint Martins Friday 16:15 - 17:15
The Digital Maker Collective were really pleased to host the closing event at the Del 2017 conference, with a fantastic pop-up digital maker participatory workshop. Conference delegates were invited to discover, explore and try out the latest's innovations in digital making. Visitors dipped in and out of the below small incubator/demo and discussion zones within this Digital Maker Collective Mini Jam and helped develop agile and experimental projects alongside the Collective.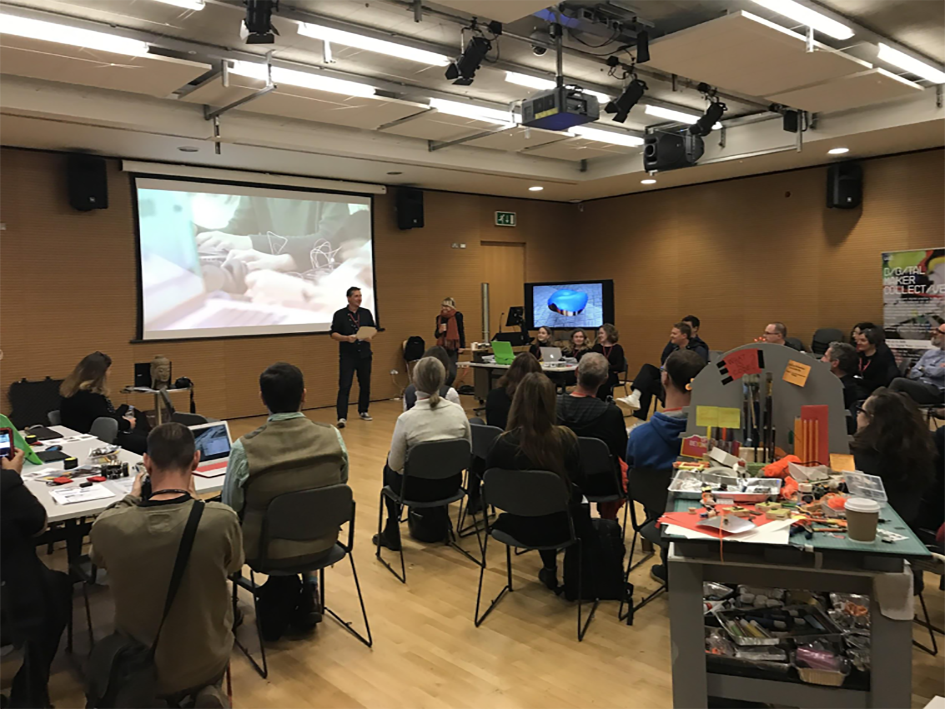 Images by Sabrina Faramarzi and info below:
The Schedule for Del is here and our digital making session on the DeL website is here, the session will be a mix of activities & presentations.
INTEGRATING 3D and VIRTUAL REALITY (VR) IN THE CURRICULUM  
Virtual Reality within the Curriculum: Explore the use of drawing as the main resource for a collaborative Virtual Reality production.
Social (VR) Virtual Reality: Join students as they explore social (VR) Virtual Reality, students will explore social VR use in education (Enrica Franca, Irene Del Principe, Anna De Amicis and Jonathan Swain)
Virtual Intimacies: Photogrammetry Workshop:
As a participant in this workshop you will learn how to generate your own 3D model using table top sized intimate objects. Kirstin Barnes and Jack Marder graduates of CSM will help you create a 3D digital model, you will use quite a particular process called photogrammetry which is essentially the 3D reconstruction of multiple images. This workshop might interest someone who is new to this process and wants to learn more, someone who wants to take their own artistic practice in a new direction. 
Sabrina Faramarzi, MA Arts & Lifestyle Journalism, LCC: UAL My practice is centred on constantly applying a future-focused lens to the subject of my work. I have been researching human and cultural futures through multimedia journalism and I am now developing how to showcase that futures research with immersive journalistic narratives through virtual reality. My involvement with the Digital Maker Collective has consisted of exploring how to execute these narratives through collaboration, skill sharing, user testing and creating an ideology to think about the future of journalism as a creative practice in its own right that sits closer to the exploratory methodologies of arts and design - How women are gaining ground in virtual reality.
SCHOOLS & COMMUNITY COLLABORATION

Perspectives from the Digital Making Community: The South London Raspberry Jam was inspired by 11 yr old Femi  who wanted other young people with Neuro-diversities, such as autism and Tourette\'s Syndrome to share his passion of coding and physical computing.

Co-founder, Grace Owolade-Coombes will discuss how the informal community setting can provide an inclusive and transformative learning environment for cross-generational participation in new technologies an digital making.
Grace lead an open discussion about who should be leading the way and the benefits of challenging traditional ideas about young people and learning - showing the results of her son\'s project to reach 100 young people in Bangladesh.
Collaborating with schools: Find out how the Digital Maker Collective are collaborating with schools and communities and developing digital making workshops with children.
International collaboration: Find out about our work with #CYLAND with co-founder and artist Anna Frants
INTERNET OF THINGS & PHYSICAL COMPUTING
Learn about the basics of connecting the inexpensive EEG headset to Raspberry Pi and Arduino and using the data to control such components such as LED or servo We will also explore ways of feeding the data into Max/MSP and Puredata. Led by Wimbledon Tech Specialist Grzesiek Sedek.
BUILDING NETWORKS ALUMNI AND INDUSTRY 
Sustainable Digital Making Practice as a Graduate: Share your thoughts on life after university with WCA Graduates. Lucy Wheeler, Zoe Wheeler & India Gabb will be discussing their perspectives on the Digital Maker Collective project which aims to develop a space with online resources for alumni to continue to stay connected to the Digital Maker Collective beyond the art school.
Through collaborative learning and research, this project hopes to also expand connections between industry and alumni. They will discuss their current research and show their own practices as video and installation artists.
Open Design and Manufacture Project: Early UAL perspectives on Digital Maker Collective involvement in this new three-year project funded under the Knowledge Alliances strand of the Erasmus plus programme – European Commission. A Knowledge Alliance between HEIs, Makers, Maker Spaces and Manufacturers to boost Open Design & Open Manufacturing in Europe (members team UALODM).
Digital Maker Collective and Tate Exchange: Find out more about the Digital Maker Collective with Chris Follows also learn more about our events and how you can get involved in planing for the upcoming Tate Exchange 2018 events. 
ABOUT DEL17
DEL (Digitally Engaged Learning) is an international conference exploring and evolving digitally engaged teaching and learning in art and design Higher Education. We encourage practitioners and educators from creative disciplines to share, harness and critique digital tools and spaces. Themed 'Teaching Making / Making Teaching', this year's conference seeks to explore creative practices and processes of teaching with digital technology. http://www.digitallyengagedlearning.net/2017/