Dance practice from physical to virtual space
Dance practice from physical to virtual space: movement, balance, scale, and gravity
Project delivered by: Anna de Amicis, Damien Borowik, Emma De Angelis, Enrica Franca, Irene Del Principe, and Jonathan Swain.

When & Where:
Tues - Sun 06 – 11 Mar 2018 (12:00 - 18:00)
Location: 

Tate 

Modern

, Blavatnik Building, Level 5
Arts Work of the Future Tate Exchange
What:
At Tate Exchange, Digital Maker Collective (DMC) wants to investigate Social Virtual Reality (VR) through the lens of dance practices and movement in a virtual environment. Here the elements that characterise the physical space are absent. Gravity, air, weights, shapes, forms and all the different parts of the physical world work together and in juxtaposition generating a space that is not yet replicable on a digital level.
In this phase of experimentation, DMC involved professional dancers, asking to perform and devise dance movements, both in the physical and in the digital space. This will give the opportunity to reflect on how movements, balance and interactions change when transposed into the virtual world and to which point these can be mirrored.
The choice of using dance, and specifically the duet as a type of interaction, has been intentional. More than other activities dance emphasises the dynamics between two bodies and how these change from the virtual and physical environment and vice versa.
Those involved in this project ask themselves how the key qualities of movement – balance, weight, volume, friction, scale – are challenged in the virtual space. Does our physicality change - and, with it, our state of mind? How do we share a space with another person when we are no longer working within the parameters of the physical space? How do we respond to each other's movements in the virtual space?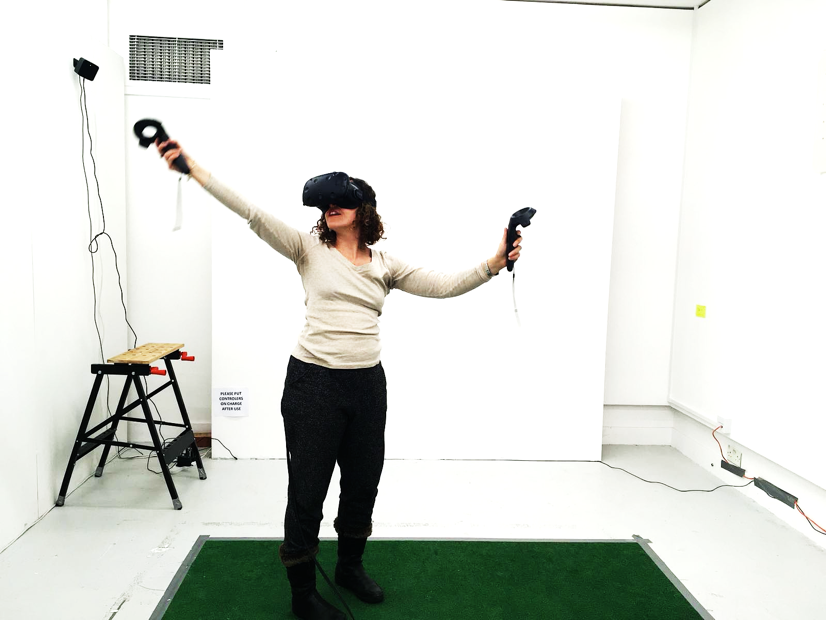 Programme:
Activities:
a) Live Performances in the physical and virtual/digital space
When: 7th of March (2-4 PM): 9th of March (12-2 PM); 10th of March(2-4 PM)
b) Ten-Min Talk at Tate: The painting "Endless Rhythm" by the French artist Robert Delaunay (1934) will introduce the project to the public. The artwork is displayed at the Boiler House Level 4 East (Room 2) and shows the ideas of movement, balance rhythm, and mirroring, all included in the act of dancing.
When: 7th – 9th – 10th of March, always at 1 PM.
Contributors
Artist and VR Designer: 

Alejandro Escobar
Artistic Development and Research: 

Annarita Mazzilli 
Dance Movement Assistant: 

Morena De Leonardis 
Dancers performing live at Tate: 

Annarita Mazzilli (Mar 07 and 10); 

Morena De Leonardis (Mar 07 and 10); 

Aurelie Freoua (Mar 09)
Enrica Franca (Mar 09).
VR Researcher: Dr Juliane Honisch,

University

of Reading, Department of Psychology
Distant Learning Specialist: Tim Morgan