Humans, Technology and Artificial Intelligence...
Humans, Technology and Artificial Intelligence...
Names of those involved in the Team: Farrukh Akbar, Vishal Mistry, Irene Pouliassi, Sheena Calvert, Junli Huang, Vija Skangale, Lawence, Rodrego Chaverio, Hannah Lammin, Esra Vazirally, Lu Weichung, Shirley Renwick

When & Where:
6th Tues - 11th Sun Mar 2018 (12:00 - 18:00)
Location: Incubator One
Arts Work of the Future Tate Exchange, Tate Modern, London 
What:
There will be two on-going installations and a quiz presentation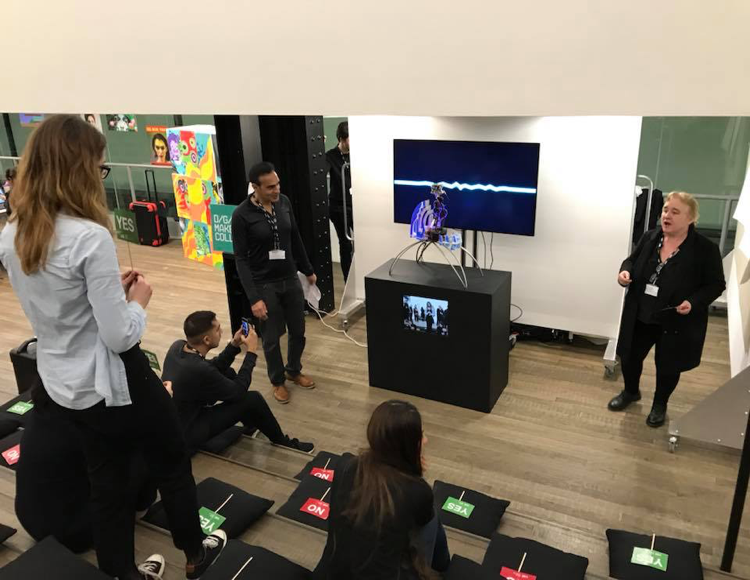 Programme & Activities:
An interactive Quiz presentation once or twice a day in the Incubator 1 area. The quiz is not only intended to be fun but will also explore and compare computer & human creativity   

A Talking Robot that interacts with the public; this will be set up as an ongoing installation. It aims to challenge the audience to re-examine their relationship with technology in their every day lives.

A Guest speaker Dr Khalid from SenSat will be presenting a powerpoint talk about commercial drones and 3D mapping of cities on Wed 7th and Sat 10th March.
Welcome Area - Automation, Creativity & Technology
Welcome Area - Visitors are welcomed into the event by a mock hologram of a talking cyborg, providing an overview of what is happening on the floor. Alongside the relaxed welcome area you are invited to get hands on by helping us what Arts Work of the Future means, through exploring & questioning automation and technology
Incubator One: Are Humans Sustainable?
This incubator explores the potential of the human species to survive and thrive within new technological environments. Please see below Digital Maker Collective and Guest Industry/Sector/Edu/Maker Provocations
Incubator Two: What is the future of interaction?
This incubator will rethink virtual and physical space with interactive audio and visual projects . Please see below Digital Maker Collective and Guest Industry/Sector/Edu/Maker Provocations