(human ± technology) let's update together
(human ± technology) let's update together
Names of those involved in the Team: Names of those involved in the Team: India Gabb, Andrey Parshin, Lorent Rezari, Lucy Wheeler, Zoe Wheeler.

When & Where:
6th Tues - 11tth Sun (12:00 - 18:00)
Location: Incubator Two
Arts Work of the Future Tate Exchange, Tate Modern, London 
What (human ± technology) let's update together will be doing:
Code and activate light installations and experience unseen interactions between the physical and virtual.
The movement and processing of data is an event that takes place simultaneously to your day to day life. It passes by unnoticed. The data can present information or command technology. There are instances where virtual data extends to physical spaces.
Throughout the week we will have an 'open studio' where members of the public can input codes to the electronics, altering the light installations.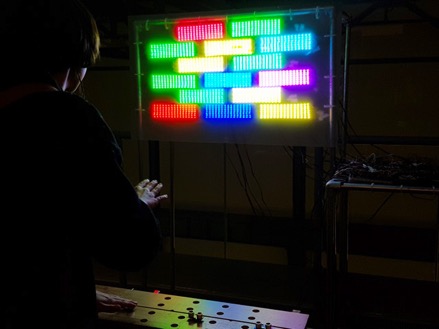 Programme & Activities:
Thursday 2-4pm: Coding Workshop with LED/ RGB Brick Installation
Sunday 12-2pm: Interactive Light Installation
Collaborating with I'm Lonely What Can I Do  throughout the week with virtual realtity.
Ten Minute Talk by India Gabb and Zoe Wheeler at David Batchelor Spectrum of Brick Lane 2 2007
We will compare the aesthetics of Bachelors work with our interactive RGB LED brick wall and question the place of 'artificial' materials today and in the future.
Web/Social media links:
@media_dmc