Help make sense of the digital mayhem. Join theUniversity of the Arts, Digital Maker Collective and guests in exploring related connections across digital projects, concepts and technologies through creativity, digital experiments, performances, interventions, and conversation. Through informal student-led critiques, debate and reflection on-site and online, create new work and ideas to take forward together. Read more here
Digital Making Art School, Space:
Collective Base Camp - Tech Cluster - Wonder Wall
Projects Space - Digital Detox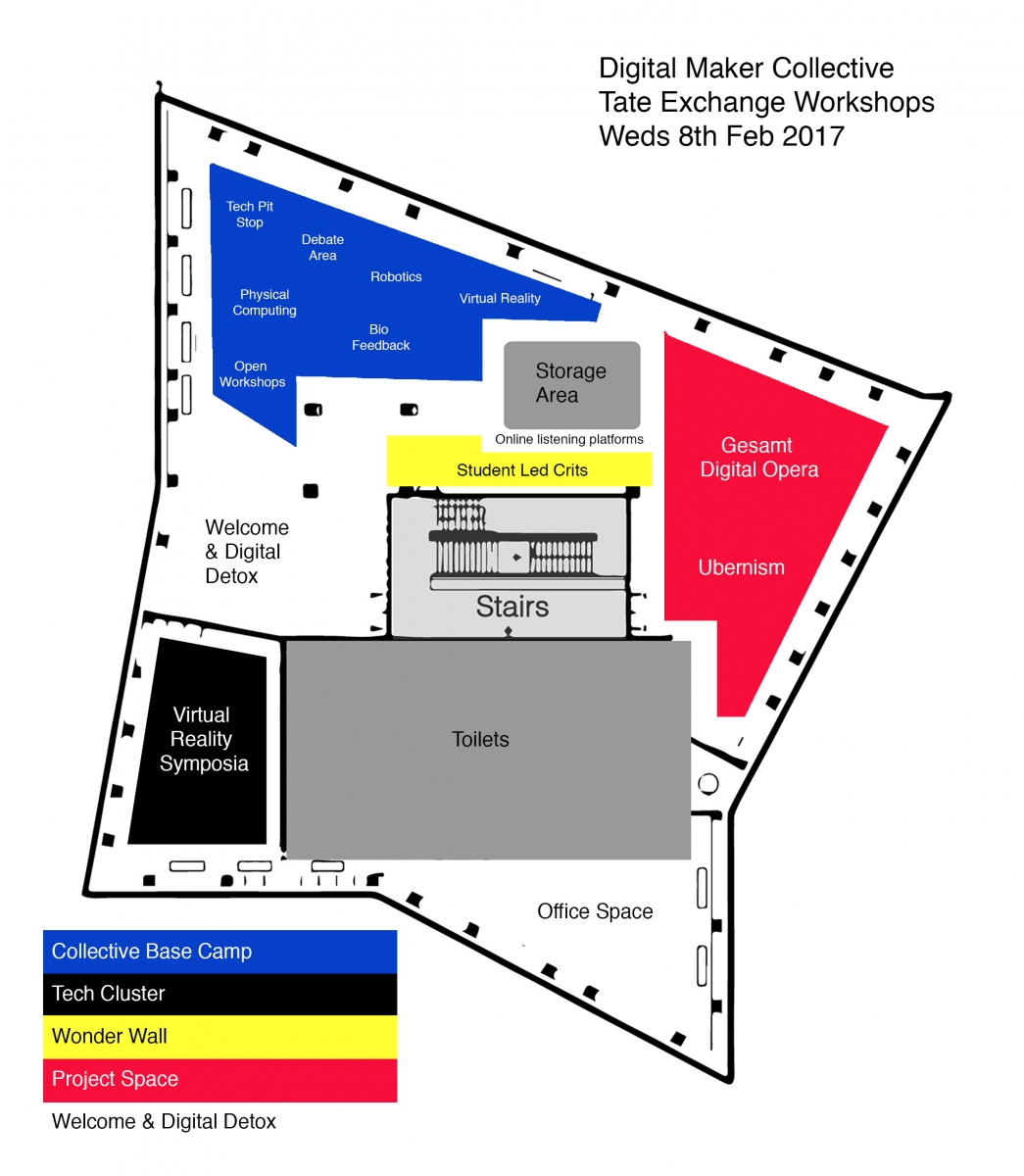 Collective Base Camp: 12.00 - 18.00
At the centre of the event will be a large participatory Digital Maker Base Camp, a space to develop agile and experimental projects led by members of the Collective. The camp will evolve and respond to themes, public interactions and our invited guest maker activities. Create new work and ideas to take forward together.
Virtual Reality
Virtual, mixed/augmented reality and virtual/real interventions
Physical Computing
Sensors, microcomputers and biofeedback devices to create interactive objects and digital interactions. Artificial creatures and utopian or dystopian worlds.
Bio Feedback
Robotics
Open Workshops
This is a participant driven workshop space which will allow any member of the Collective to propose & deliver workshops on the day. The Collective will add workshops to the blackboard throughout the afternoon.
Tech Pit Stop 
A space for general work in progress and experimentation for members of the Collective to prepare for workshops, test stuff out or fix things, please pop-in for a chat.
Debate
Tech Cluster: 12.00 - 14.30
Discussion & debate - Virtual Reality Symposia: Virtual Histories
Digital Detox: 12.00 - 18.00
A space to relax, meet and chat.
The Wonder Wall: 12.00 - 18.00
Wall for public interaction and mapping debate and conversations throughout the day. Led by informal student-led critiques, debate and reflection on-site and online, share ideas to take forward together.
Project Space: 12.00 - 17.30
Course led projects
This event is programmed by Digital Maker Collective, a Tate Exchange Associate.
About the Digital Maker Collective
The Digital Maker Collective are a group of artists, designers, staff and students from the University of the Arts London (UAL) who explore emerging digital technologies in arts, education, society and the creative industries.
They are supported by Digital Learning, Teaching & Enhancement at Camberwell, Chelsea and Wimbledon Colleges of Arts, UAL.